Farmer's Market Tomatoes in Spicewood
June 26, 2021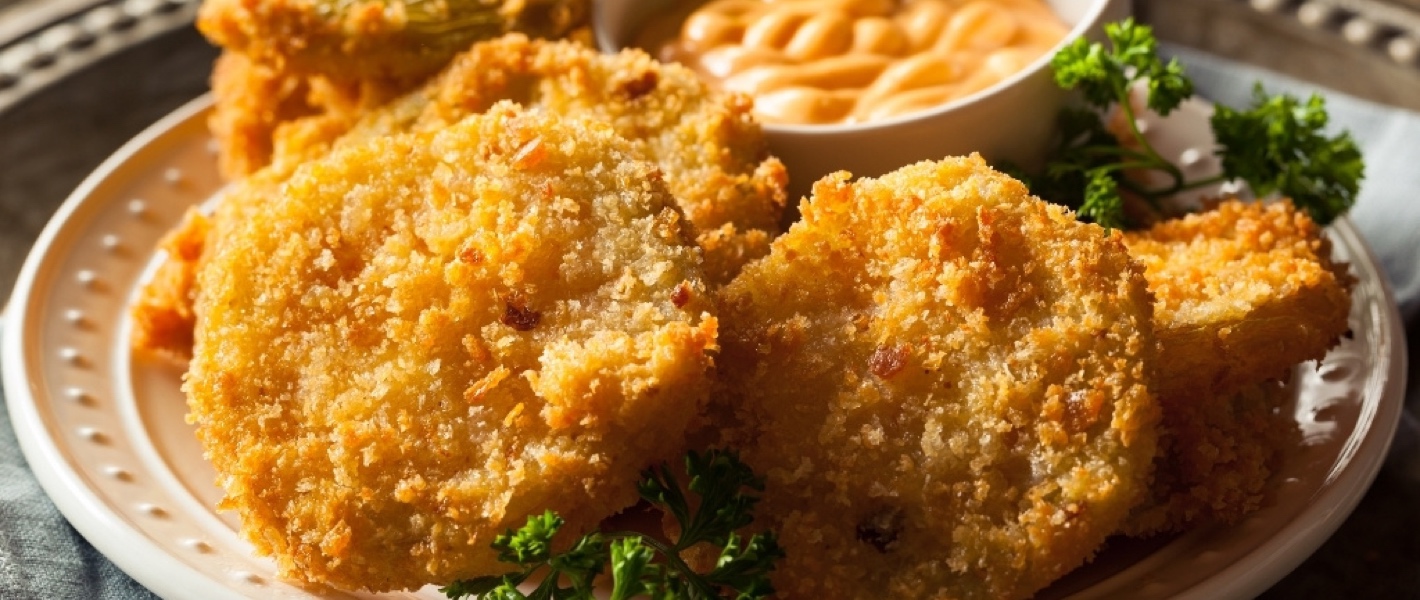 Could anything be better than a plump, ripe, juicy tomato? This is Texas tomato season and Farmer Dave's tomatoes have all the home-grown, just-picked flavor you could hope for. Serve them in a salad or an old-fashioned tomato sandwich with salt, pepper, and mayo on white bread. It's a perfect way to enjoy lunch on the picnic tables at Open Air Spicewood.
Plan Ahead – Get Green Tomatoes
You may think you're going to let green tomatoes ripen up on your RV or cabin countertop, but the plain truth is…green tomatoes are delicious too! Eat them now!
Everybody south of the Mason-Dixon Line likes fried green tomatoes. Here's how to make them…
Get the Ingredients
3 medium-sized, firm green tomatoes
Salt
1 cup all-purpose flour
1 tablespoon Cajun seasoning
1/2 cup milk or buttermilk
1 large egg
1/3 cup fine white cornmeal
1/2 cup fine dry bread crumbs
1/4 cup peanut, canola, or olive oil for frying
What to Do
Cut unpeeled tomatoes into 1/2 inch slices. Sprinkle slices with salt. Let tomato slices stand for 5 minutes.
While the salted green tomato slices are resting, place in three separate, shallow bowls: 1) the flour and Cajun seasoning (if using), 2) buttermilk and egg – whisked together, and 3) breadcrumbs and cornmeal.
Bread the tomato slices by dipping them in the flour-seasoning, then the buttermilk-egg mixture, then the cornmeal-breadcrumb mix.
Place the oil in a skillet and fry the breaded tomatoes over medium heat for 3-5 minutes on each side or until brown. Set the cooked tomatoes on paper towels to drain.
More Green Tomato Love
What else can you do with all those tangy green tomatoes? Make BLT sandwiches and replace the sliced ripe tomatoes with fried green tomatoes. Yummy!
Or, make a Caprese salad with fresh basil, mozzarella, and fried green tomatoes. Drizzle it with balsamic vinegar and olive oil. How do you say 'yummy' in Italian? Because, that's what it is!
Green Tomato Pie – If you've never had a Green Tomato Pie, hop in the car and take yourself right back to Farmer Dave's Market at 2400 Fall Creek Rd, Spicewood, TX 78669 and get one. Green tomatoes have all the piquant sweet/tart flavor of apples. When combined with a homemade crust and all those apple pie spices, the result is outta this world.
---
Get Back to Nature with Fresh Local Tomatoes at All-Natural Open Air Spicewood