Cliff Jumping at Pace Bend Park
May 26, 2022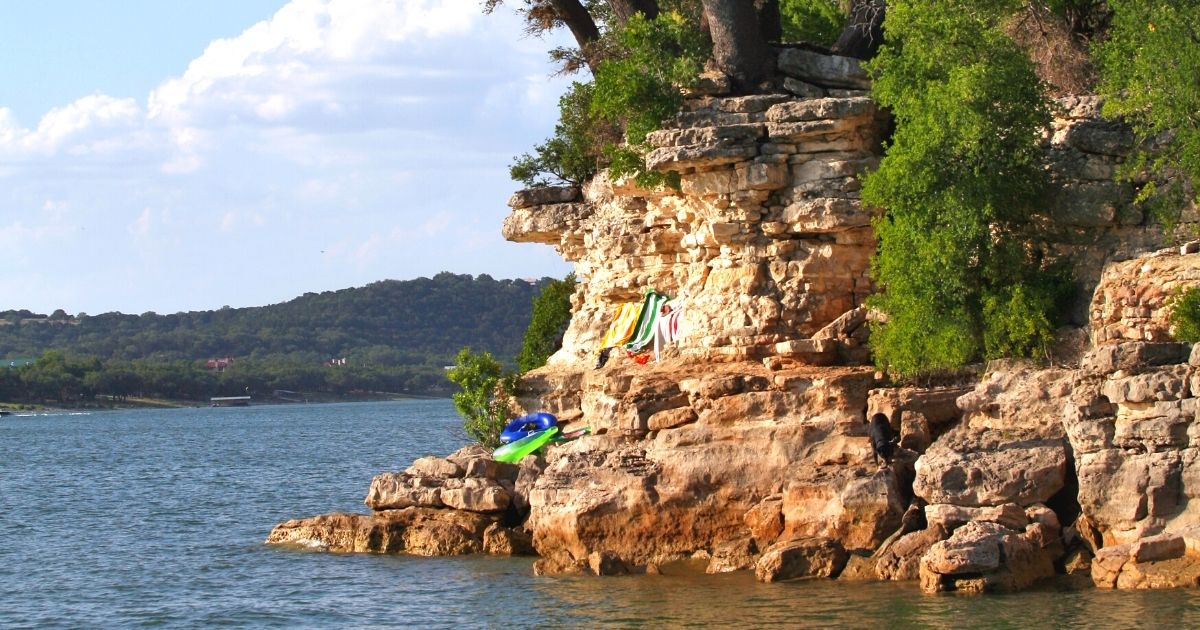 Cliff jumping
With more than nine miles of shoreline along scenic Lake Travis, Pace Bend Park is one of the most popular areas in the Highland Lakes region. The park offers a wide range of recreational opportunities including swimming, boating, fishing, rock climbing, and for the adventurous person…cliff jumping!
Reserve your stay at Open Air Spicewood and join thrill-seekers from around the world who come to Pace Bend Park to jump off the limestone cliffs, some of which are 45 feet high! Wear swim shoes or old sneakers to protect your feet from the zebra mussel shells at the bottom of the lake. Always go with a buddy – there are no lifeguards at Lake Travis.
Is cliff jumping for you? Watch this short video and find out.
Where exactly are the cliffs?
The safest place for cliff jumping at Pace Bend Park is on the park's eastern side. Enter the park and take the first right turn on Grisham Trail. Continue on this main road till you come to the cliffs on your right. You will be between Baldwin and Giles Cove.
Affordable fun
In addition to cliff jumping, you can hike, ride a horse or explore the hills that overlook the Colorado River from the seat of your mountain bike. Affordable too! Just $5 bucks per person, $3 for folks who are 62 or older, and kids under 12 get in free! What could be more natural than hiking around the quiet waters of Lake Travis with your leashed doggie – he's welcome too.
Spend the Day at Serene and Sparkling Lake Travis
Pace Bend Park features high limestone cliffs, many rocky caves, and impressive views of Lake Travis, especially at sunset. Perfect for hiking, cliff jumping, and exploring nature. So, hop in the car for a day of bliss. You'll find the entrance to Pace Bend Park on Lake Travis at 2805 Pace Bend Rd N, Spicewood, TX 78669. Call (512) 264-1482 for more information.
And book your stay at Open Air Spicewood for vacation memories you'll cherish for a lifetime.