Brand New – Vintage Luxury in Spicewood, Texas
March 1, 2021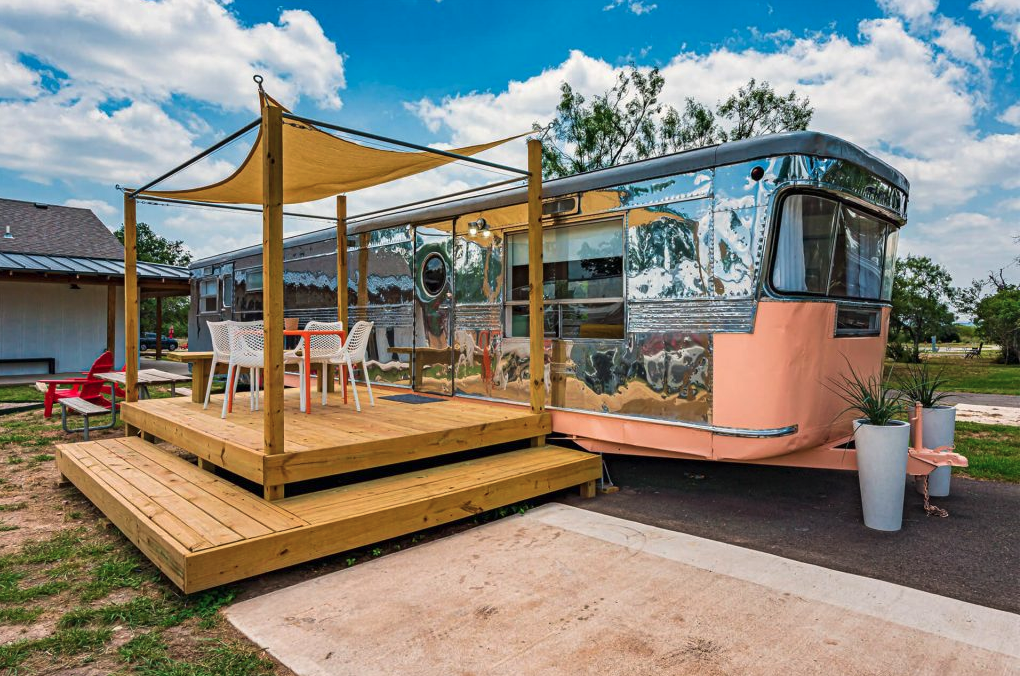 Thank you, Campers, for making Open Air-Spicewood the winner of Campendium's 2020 Campers Choice Award by giving us the most Five Star reviews. Just because you've been so nice to us, here's a Five-Star tip for you.  It's called … Your Luxurious Vacation in a Vintage Travel Trailer
If you think deluxe tent camping (glamping) is the most romantic thing ever, you've never tried camping in the rolling mansions of yesteryear. You'll feel just like a glamorous movie star!

Live it up in 'Lucille', a fully renovated top-of-the-line vintage trailer, last manufactured nearly 60 years ago. Fully restored and modernized with AC, heat, modern plumbing, an outdoor grill, and an attached porch, 'Lucille' was built by the Spartan Aircraft Company after World War II.

Lucille and her companions, The Jetson, The Minty, Li'l Buckaroo, The Davenport, The Apollo, and The Ace were found in various unusual locations all around the USA. We brought them all to our deluxe Spicewood Resort here in the Texas Hill Country, restored them to their original glory, added modern conveniences, and now offer them to you as the most unique lodging anywhere.

These beautifully restored and updated Airstream and Spartan trailers once ruled the open road. Now they rule Open Air-Spicewood – the newest luxury RV resort in Spicewood, Texas. Take a peek at these vintage chrome beauties and reserve your stay to live like the millionaires of a glittering bygone era.
There's More in Store at Pet-Friendly Open Air – Spicewood
Whether you stay in your own RV at a full hook-up site, one of our cabins or tiny houses, a tent site, or a vintage trailer, you'll live the royal lifestyle with these deluxe amenities…
Big, sparkling clean swimming pool
Pickle ball, tennis court, and volley ball
Kiddies' playground
Cornhole and ping-pong
Fishing pond
Dog park with bath station
Big screen TV in the lounge
Modern bathhouses, restrooms & showers
Convenience store & laundromat
Fire pit and picnic table at every site
Free WiFi
TripAdvisor Says Five-Stars Too!
Still looking for one more reason to visit Open Air Resorts in Spicewood? Here it is – we're just 45 minutes from all the big city fun and attractions in Austin. Affordable too! Wait a minute…here's another one – Not just Campendium, but also TripAdvisor says 5 Stars too! Y'all come see us!
Vintage Luxury in a NEW Texas Hill Country Resort Open Air Spicewood RV Resort